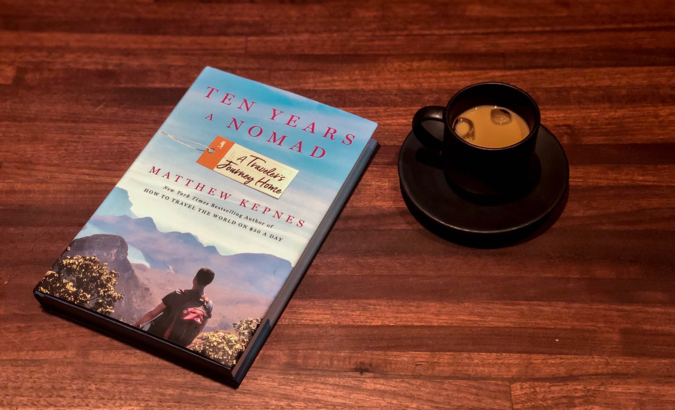 Posted: 7/16/2019 | July 16th, 2019
IT'S HERE!
After eighteen months of writing and editing, my new book, Ten Years a Nomad: A Traveler's Journey Home, is on sale now.
The book is a memoir about my ten years traveling and backpacking the world, philosophy on travel, and the lessons I learned that can help you travel better. It takes you on a trip around the world from start to finish: getting the bug, the planning, setting off, the highs, the lows, the friends, what happens when you come back — and the lessons and advice that come with all that.
It features lots of stories I've never told on this blog.
I poured my heart and soul into this book. It's very personal. In fact, my friends have been really surprised at how personal I got (there's going to be some awkward conversations after my family reads this book).
But this is not all about me.
This is about what I learned and how you can apply it to your travels. How you can get inspired, work through your fears, meet people, and become a better traveler. Unlike my previous books, this is not a "how to guide" but a collection of tips, advice, and stories from the road that can be used no matter where you are in the world or how long you'll be away.
This book gets to the heart of wanderlust and what extended travel around the world can teach us about life, ourselves, and our place in the world. (Or at least tries to.)
In this book, you'll find:
Crazy hostel stories
What it's like to travel the world for ten years
My philosophy on travel
Lessons learned from the road
How to cope with travel burnout
How to make friends
Inspirational stories and insights
If you want to know what it's like to travel the world and live out a backpack, this book will tell you. If you want to be inspired to travel and better understand how you can do it too, this book is for you.
If you just want a good travel book to read on the beach, this book is for you.
You can get the book online at the following places:
(Or walk into your local independent bookstore and pick up a copy!)
 
5 Early Reviews of the Book
So what are people saying of the book?
"Inspirational" – Cheryl Strayed
"In his heartfelt explanation and exploration, Matt runs through just why he's been out there, backpacking the world for 10 years. By the end we've definitely realized, like Matt, how important travel is and how getting out there, on the road, can make you, me and the world a better place. It's a great pity certain people at the very top of the world's power pyramid never had just a little taste of the nomadic experience." – Tony Wheeler, founder of Lonely Planet
"Throughout his ruminations on how travel affected him, Kepnes interweaves his tales of friends, girlfriends, and great loves discovered among exotic backdrops and how starting a blog (nomadicmatt.com) about his adventures altered the way he traveled. His story is one of heartbreak, self-discovery, and the constant travel itch he had to scratch in order to become the man he was supposed to be. An entertaining, quick read by a man who did what many of us only dream about." – Kirkus Book Reviews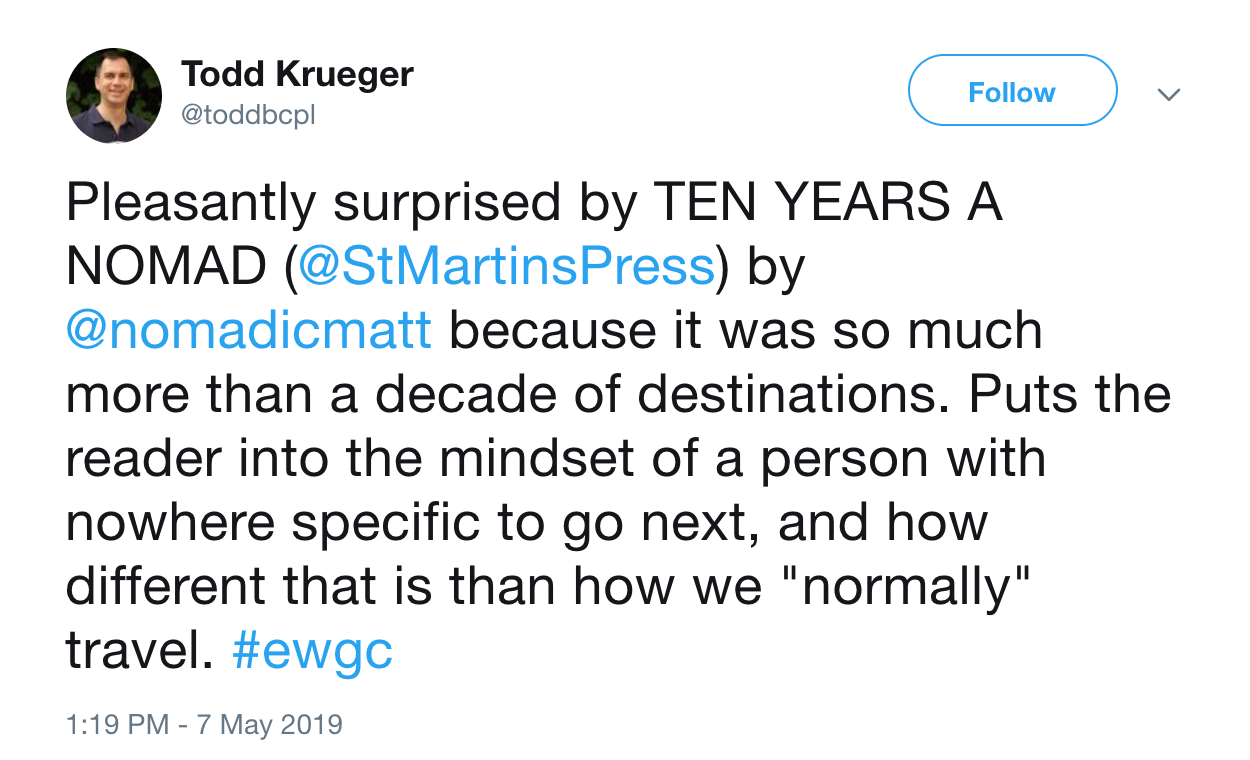 View this post on Instagram

I've got an advanced copy of Matt Kepnes's new memoir, Ten Years a Nomad, and I'm LOVING it. Not his standard guide to get you off the couch and out into the world (although it'll surely do that too), but a personal and heartfelt account of his journey. And NOT PREACHY. Might be the first book I've read in this vein that doesn't make me wanna punch the author a little.
The "Ten Years a Nomad" Book Tour
I'm going on book tour! Come join me, talk travel, get a signed book, and hang out! Here are the dates:
| | | |
| --- | --- | --- |
| August 14 | Portland, OR: Powell's Books at Cedar Hills Crossing @ 7:00pm | EVENT DETAILS |
| August 15 | San Francisco, CA: Book Passage at Corte Madera @ 7pm | EVENT DETAILS |
| August 16 | Seattle, WA: Third Place Books @ 6pm | EVENT DETAILS |
| August 19 | Vancouver, BC: Indigo (Robson) @ 7:00pm | EVENT DETAILS |
| August 26 | Toronto, ON: Indigo (Bay-Bloor)@ 7:00pm | EVENT DETAILS |
| August 31 | Montreal, QC: Indigo (Place Montreal) @ 1:00pm | EVENT DETAILS |
Want to Help Me Spread the Word About This Book?
I'm always looking for more opportunities to talk travel. Here's how you can help me spread the word about the new book:
Want to interview me?
If you have a blog, podcast, vlog, or Instagram channel and want to interview me about the book and travel, let me know at [email protected] using the subject line "Book Interview." I'd love to talk with you!
Are you in the media and want to cover the book?
If you work for a major media outlet and want to interview me about the book or would like to review the book, let me know at [email protected] using the subject line "Media Request."
Know anyone that I should reach out to for promotion?
If you have suggestions on people who would love a copy of this book and would be a good fit for promoting the book, let me know in the comments, or feel to email me at [email protected] with the subject line "Book Promotion Help."
****
Thank you so much for your support and love over the years. I really hope you love this book. I wanted to write something that would appeal to a wider range of readers. Please help spread the word, get a copy, and I hope to see you on the book tour.
– Nomadic Matt
Once again, here are links to get the book today:
Book Your Trip: Logistical Tips and Tricks
Book Your Flight
Find a cheap flight by using Skyscanner or Momondo. They are my two favorite search engines because they search websites and airlines around the globe so you always know no stone is left unturned.
Book Your Accommodation
You can book your hostel with Hostelworld as they have the largest inventory. If you want to stay somewhere other than a hostel, use Booking.com as they consistently return the cheapest rates for guesthouses and cheap hotels. I use them all the time.
Don't Forget Travel Insurance
Travel insurance will protect you against illness, injury, theft, and cancellations. It's comprehensive protection in case anything goes wrong. I never go on a trip without it as I've had to use it many times in the past. I've been using World Nomads for ten years. My favorite companies that offer the best service and value are:
World Nomads (for everyone below 70)
Insure My Trip (for those over 70)
Looking for the best companies to save money with?
Check out my resource page for the best companies to use when you travel! I list all the ones I use to save money when I travel – and that will save you time and money too!